ABOUT GOLDEN GIANT, INC.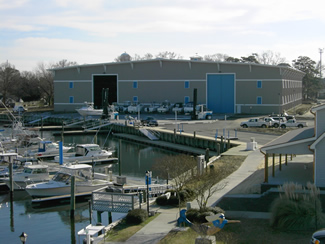 Golden Giant, from its inception over 35 years ago, has been a building designer, manufacturer and erector. Innovations are a part of our DNA. We design our buildings with your needs in mind; we then fabricate our buildings in our ultra-modern production facility. Golden Giant's design and fabrication methods are geared towards making the erection process fast and efficient. Your entire building is designed and manufactured in our 120,000 square foot facility, located in Kenton, Ohio.
Our broad product line includes:
Commercial and industrial buildings
Boat storage marinas
Marina office / sales
Boat service garages
Restaurants
Convenience stores
Strip malls
Mini storage units
Churches
Aviation hangers
Our specialty in the metal building industry is custom designed buildings which are unique as our customers. You work directly with the designer, manufacturer, and builder of your project when you work with Golden Giant. We can be extremely flexible with building and shipping schedules by having our marketing, engineering, and manufacturing departments under one roof.
Construction specifications throughout the country are becoming more stringent. Seismic, wind and snow conditions are issues that must be addressed with every building. Golden Giant has certified engineers on staff to address these issues. Code issues are addressed prior to contracts being signed to help eliminate hidden surprises.
We thank you for visiting our website and invite you to visit our production facility. You can learn more by visiting our corporate website - www.goldengiant.com .