COMMERCIAL CONSTRUCTION PRODUCTS / STEEL BUILDING SYSTEMS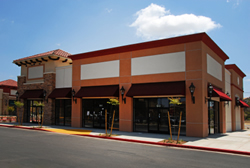 Commercial Steel Buildings
When a unique appearance or look is important, we have over thirty-five years experience making buildings stand out. There is no question, the look of your building attracts attention to your business. We are experienced in designing and constructing:
Auto Dealerships
Freight Terminals
Medical Facilities
Office Buildings
Retail Stores
Strip Malls
Truck Repair Shops
Warehouses
And Other Commercial Facilities / Buildings
By combining the metal building system with conventional exterior materials such as brick, stone, pre-cast concrete or glass, your building will be aesthetically appealing while providing the perfect solution to your building needs.
Click here for additional information about our Commercial Steel Buildings >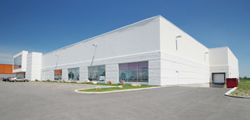 Industrial Steel Building Systems
When we think of industrial, we think of production. How can we make your building economical and efficient for your unique business? By understanding your business and how it operates. We're not here to just quote you a building, we're here to save you money in the long run. Golden Giant has built hundreds of buildings from 4,000 square feet to 500,000 square feet with eave heights over 70 feet. All of our buildings are designed to meet or exceed state and local requirements. We offer pre-cast concrete walls and crane buildings as well. Click here for additional information >
Steel Aviation Hangers
Golden Giant's aviation hangers are individually engineered and designed for each customer. Our clear span design provide open floor space and eave heights for nearly all aircrafts. Each structure allows for a variety of door options including BI-Fold and sliding doors. Tee hangers and nested tee hangers are also available.
Click here for more information on our steel aviation hangars >

Mini-Storage Buildings
Golden Giant's mini-storage facilities are ideal for investors and developers. Our prices are very competitive and the services we provide are unmatched in the industry. The flexibility in building sizes, unit sizes, and roof profiles gives you a multitude of choices. Our maintenance free design will allow for years of trouble free service. Click here for more on our mini-storage buildings >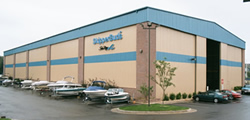 Dry Stack / Dry Rack Storage Boat Marinas
Golden Giant has developed a somewhat unique "Dry Rack" boat storage system that we refer to as our "Boatel" system. We use a computer generated design method, which integrates the stacking system with the building's shell. This integration resulting in a stronger and more efficient building design. Each and every boat stacker is individually designed to meet or exceed state and local building codes.
Click here for more information on our Dry Stack Storage Marinas >